Cantem i toquem 2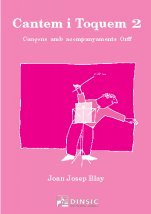 9.62 € VAT not included
10.00 € VAT included
Contents
This work is an extension to 'Cantem i toquem 1' (Let's sing and play 1). As in its predecessor, traditional singing and 'ostinato' are the basic working tools, though the little introductions, variations and developments that it contains will enrich the end result of each of these little pieces.
The way these works are produced will enable children of different levels to take part. The songs are suitable for the youngest children. The instrumental side, also catering for different levels, has some parts that are intended for older children or ones with some degree of experience in music, though this is not so much a difficulty (for difficulties never really appear) as a stimulus for making progress.
The various parts (voice, recorders and percussion) should be worked on before tackling the work as a whole.
The instrumental group takes the lead often, and so one must be clear about which instruments are to be in the foreground and which in the background. Obviously, the vocal parts must always play a leading role.
Structure
Three Catalan folk songs: Fifteen's Fifteen (Quinze són quinze); The brave donkey (El ruquet valent); The mother's boy (El noi de la mare).
All the instruments can be doubled in line with the instruments available in each group, and other instruments can be included doubling some of the parts, such as guitars, electronic keyboards and so on.
Technical Specifications
Measurements
21 x 29,7 cm, vertical
Binding
Staple
Number of Pages
32
ISMN
M-69210-22-5
Editor
DINSIC Publicacions Musicals
Also collaborating:
Cover Designer
Lluïsa Jover Armengol