Lenguaje Musical 1 (Diaula)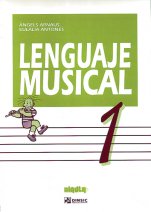 12.20 € VAT not included
12.69 € VAT included
Contents
(The Language of Music 1)
Ear training: melody, harmony,pitch, structure.
Rhythm: marking the beat with short, precise gestures. Figures will be represented by improvisation and sensory work.
Note-reading.
Melodic improvisation: free improvisation and with construction of suspensive and conclusive phrases. Combinatorial analysis of the different sounds studied.
Rhythmic improvisation: free improvisation with or without concreting a definite number of beats. Invention of phrases of four or eight beats using different established rhythmic forms.
Composition: creation of short musical fragments with all elements learned. It is very important that the students know how to sing their own works.
Educating the voice: attention to position, breathing, individual articulation, looking for a clear, balanced and musical sound in class ensemble.
Choral singing.
Listening: recognizing fundamental works of music literature. As an element of practical discovery of musical language, dictations and analysis are used in reading practice.
Music-reading: rhythmic, tuning, analytic and interpreting by memory.
Memorization: analytic development, as an aid to interpretation.
Transposition.
Games: intend to encourage curiosity, entertainment and participation on both individual and group levels.
Technical Specifications
Measurements
21 x 29,7 cm, vertical
Binding
Paperback
Number of Pages
96
ISBN
84-95055-46-5
Editor
DINSIC Publicacions Musicals
Also collaborating:
Cover Designer
Mateo&Solano
Illustrator
Simbiosi
Translations of this Publication