El petit pianista 1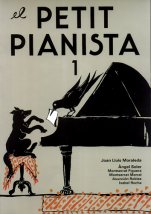 17.79 € VAT not included
18.50 € VAT included
Contents
Rhythms: crotchet, minim, dotted minim. / Time signatures: 2/4, 3/4, 4/4 and 2/2. / Clefs: 3rd line G clef and 4th line F clef. / Initiation: keyboard discovery, correct hand placement, articulation, first notes, simultaneity of the two hands: movement in parallel and in opposite directions. / Section 1: identical fingering in both hands (harmonization with tonic-dominant). / Section 2: different fingering for each hand. / Section 3: fingering changes within the same piece.
Structure
-Introduction / Section 1 / Section 2: exercises, traditional songs, pieces for four hands.
-Section 3: chamber music.
Technical Specifications
Measurements
21 x 29,7 cm, vertical
Binding
Paperback
Number of Pages
112
ISBN
84-95055-40-6
Editor
DINSIC Publicacions Musicals
Also collaborating:
Cover Designer
Lluïsa Jover Armengol
Illustrator
Lluïsa Jover Armengol
Translations of this Publication