Tractat de Solfeig: els elements essencials de la música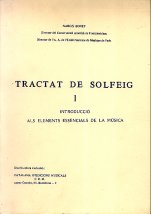 Contents
(Course in Reading Music / Introduction to the essential elements of music).
A new approach to learning music.
The originality (returning to the origins, as Gaudí saw it) of this work, which analyses the essential elements of music and how they are related and interrelated, consists fundamentally in the notes being learned not just in terms of their absolute position on the staff presided over by the treble clef, but also in terms of their intervallic relationships, thus creating the necessary identification between the sound as heard and the sound as represented in visual terms.
Structure
1. Introduction to the essential elements of music and to the importance of musical notation in the evolution of western music since the beginning of the second millennium.
2. Rhythm, a movement of tension and release (arsis-thesis) corresponding to the notion of weak and strong beats ' wrongly inverted into strong and weak beats on account of the position of the bar line, an error leading to serious misunderstandings in grasping rhythmic life.
3. Analysis of sound and harmonics, the basis of the historical evolution of music. Analysis of melodic order and harmonic order and of the modal and tonal system in relation to the notion of tension and release.
4. Applying the natural consequences of this analysis to the basic teaching of musical language, comprising melodic, harmonic and rhythmic formulae.
Technical Specifications
Measurements
17 x 24,5 cm, vertical
Binding
Paperback
Number of Pages
132
Editor
DINSIC Publicacions Musicals
Translations of this Publication