El pas del temps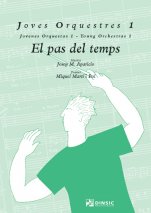 18.75 € VAT not included
19.50 € VAT included
Contents
'El pas del temps' (The Passage of Time) is a work for symphony orchestra and choir (optional) based on four 'Tankas' by Miquel Martí Pol.
The 'Tanka' is a Japanese form of poetry with 31 syllables spread over 5 lines in a 5-7-5-7-7 scheme.
The work is divided into seven parts, inter-linked by heart-beats and by the intercalated 'Tankas'.
The work was given its first performance by the Youth Orchestra and Choir of Vallès Occidental on 5 May 2002 in the Sports Pavilion of Lliçà d'Amunt.
Instruments
Double Bass
,
Tuba
,
Drums
,
Trumpet I
,
Trumpet II
,
Trumpet III
,
Trumpet IV
,
Horn I
,
Horn II
,
Viola
,
Violin I
,
Violin II
,
Violin III
,
Cello
,
Trombone III
,
Trombone II
,
Trombone I
,
Clarinet I
,
Clarinet II
,
Bass Clarinet
,
English Horn
,
Bassoon I
,
Flute I
,
Flute II
,
Piccolo
,
Oboe I
,
Oboe II
,
Piano
,
Alto saxophone
,
Tenor Saxophone
,
Bassoon II
Technical Specifications
Measurements
21 x 29,7 cm, vertical
Binding
Spiral-bound
Shrink-wrap
Score and parts
Number of Pages
52
ISMN
M-69210-055-3
Editor
DINSIC Publicacions Musicals
Also collaborating:
Cover Designer
Lluïsa Jover Armengol
Poem
Miquel Martí i Pol