Mètode bàsic per a l'estudi del tible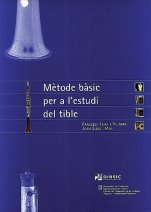 17.79 € VAT not included
18.50 € VAT included
Contents
The aim of this 'Mètode bàsic per a l´estudi del tible' (Elementary method for studying the Catalan shawm) is to provide tible students with help in the form of learning materials for approaching the instrument in a graded manner (always under a teacher´s supervision).
The first part, in addition to a brief history of the tible, presents its development and characteristics, and also includes explanations on learning it, such as:
holding the instrument, body posture, embouchure, breathing, tone production, tuning, fingering, vibrato, mechanism etc., the whole being intended to give tible students a sound base for developing in a positive way towards mastery of the instrument.
The second part of this work gives specific exercises for tackling each difficulty, along with simple studies. It was chosen not to go beyond semiquavers, and to use only three accidentals, in line with what the students will find later in playing in traditional cobla bands. As for its level, this course is meant to be suitable for up to the intermediate level.
Structure
Part I: brief history of the tible and its development. Characteristics of the instrument, and considerations regarding learning it.
Part 2: 355 graded exercises and studies, with these features:
- note values: from semibreves to semiquavers.
- keys: from C major up to three-accidental key signatures
- scales and arpeggios
- two-part scales in thirds, sixths and octaves.
- chromatic notes.
- 50 studies for expression.
- 20 studies for technique.
Instrumental level: from elementary to intermediate.
Technical Specifications
Measurements
21 x 29,7 cm, vertical
Binding
Paperback with flaps. Plastic-coated cover.
Number of Pages
226
ISBN
84-95055-59-7
Editor
DINSIC Publicacions Musicals
Also collaborating:
Cover Designer
Hermini Mampel