Francesc de Paula Bové (1875-1950): Músiques per a dues gralles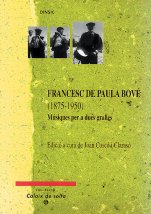 9.62 € VAT not included
10.00 € VAT included
Contents
Francesc de Paula Bové (1875-1950): Music for two grallas (shawms)
In this volume in the Calaix de Solfa collection can be found two pieces that are suitable for dancing, written for the Vilobí-based band of grallas (Catalan shawms) called Els Tabola.
At first sight, they do not appear particularly difficult to play. No virtuosity is called for. They are written for two grallas, with the first shawm having much more to do than the second, since the latter is often asked merely to play along in thirds. These melodies are pleasant to perform, and their easy, approachable nature does not mean that they are lacking in melodic quality in any way.
(Extract from the musical Commentary taken from this publication).
Structure
Presentation
Biographical note
The heritage of the band Tabola de Vilobí del Penedès.
Musical commentary
1. Americanes (American style): La sandunguera, La tísica, Paquita, La Palmera.
2. Xotis (Schottische): Los catalanas, el urbano
3. Valsos (Waltzes): El tranquil, El tremendo
4. Masurques (Mazurkas): La vilovinesa, Solidaritat
Technical Specifications
Measurements
21 x 29,7 cm, vertical
Binding
Paperback
Number of Pages
40
ISBN
84-95055-69-4
Editor
DINSIC Publicacions Musicals, Generalitat / Cultura / Direcció General de Cultura Popular i Associacionisme Cultural
Also collaborating:
Coordinator
Josep Albà Artigas
Cover Designer
Hermini Mampel
Photography
Joan Cuscó Clarasó
Other collaborator
Museu de Vilafranca, Esteve Molero, Josep Almirall, Sílvia Almirall, Toni Almirall, Xavier Bayer