Eduard Toldrà, Mestre de mestres - Fajol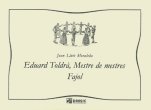 18.75 € VAT not included
19.50 € VAT included
Contents
(In homage to Eduard Toldra - To buck wheat)
'Eduard Toldrà, Mestre de mestres'
This Sardana (traditional Catalan dance form), called 'Eduard Toldrà, Master of Masters' in honour of the composer Toldrà, was commissioned by the Sardana association Amics de la Sardana, of the town of Vilanova i la Geltrú. It was given its first performance on that town´s Rambla (main boulevard) during a dance in July 1996.
Its composer, who is also chief conductor of the chamber orchestra Orquestra de Cambra del Garraf, has always been in close contact with all the Vilanova groups that pay regular homage to the memory of their town´s Eduard Toldrà.
Joan Lluís Moraleda took that chance to write a Sardana that is traditional in nature though still with intense musical content, the composition being devoted to the memory of that creator of genius and distinguished citizen of Vilanova i la Geltrú, Eduard Toldrà, to whom the work is dedicated.
'Fajol'
'Fajol' means 'buck wheat', a cereal that was basic to the diet of the people of Olot until well into the twentieth century. Nowadays, however, it is rarely found, remaining only as a symbol in the world of gastronomy and the world of country folk, representing tradition and the preservation of the good traditions of old.
Thus it was that the Olot traditional cobla band Flor de Fajol asked the composer Joan Lluís Moraleda to write a Sardana which, while still traditional in feel, would also be of substance and of high musical quality.
This Sardana was devoted to his friends Narcís Ferrer and Josefina Salgueda, pastrycooks, and themselves members of the Flor de Fajol band.
Instrumental and vocal formations
Cobla
Instruments
Baritone Horn II
,
Baritone Horn I
,
Trombone
,
Trumpet II
,
Trumpet I
,
Tenor Shawm II (Tenora II)
,
Tenor Shawm I (Tenora I)
,
Soprano Shawm II (Tible II)
,
Soprano Shawm I (Tible I)
,
Small Drum
,
Double Bass
Structure
Two sardanes for Cobla:
-Eduard Toldrà, Mestre de mestres
-Fajol
Technical Specifications
Measurements
21,6 x 16 cm, horizontal
Binding
Full Score Stapled. Separately bound parts.
Number of Pages
28
Number of parts
11
Number of Pages of Parts
22
Editor
DINSIC Publicacions Musicals
Also collaborating:
Comentator
Joan-Lluís Moraleda Perxachs
Cover Designer
Clara Rochera