Transverse flute: exercises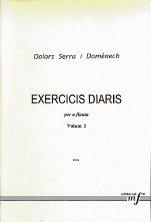 Contents
Work on technical exercises using various keys and modes.
Articulation: combinations of double and triple tonguing.
Sound: dynamics and steadiness in the sound.
Structure
Technical work: chapters by keys, working on all keys and modes. Each chapter is divided into scales, thirds and arpeggios in three- and four-note chords. Chromatic exercises up to D6.
Articulation: combinations to apply to the scales, and double and triple tonguing; four different exercises for applying to the scales.
Sound: first work on steady tone, with exercises on arpeggios.
Technical Specifications
Measurements
21 x 29,7 cm, vertical
Binding
Staple
Number of Pages
64
Editor
DINSIC Publicacions Musicals