La clave de Do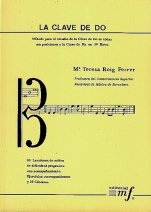 9.62 € VAT not included
10.00 € VAT included
Contents
A tutor for learning the Alto clef (also called the viola or C clef), the Baritone clef (i.e. the bass clef with the F on the third line up), and the Bass clef (with F on the fourth line up). Using a visual approach and taking certain notes as points of reference, becoming acquainted with these clefs is easy and enjoyable. The tutor is suitable for students learning instruments that use these clefs, and also for students in the music-theory grades that require the use of them.
Since a very specific aspect of musical education is the focus, independently of others, this tutor is a supplement that can be used for official syllabuses and for free study alike.
The melodies and the piano accompaniments suggest pleasing harmonies, though with expressive dissonances hinting at atonal regions, and thus it is a tutor for our own time.
Technical Specifications
Measurements
17 x 24,5 cm, vertical
Binding
Paperback. Hard cover.
Number of Pages
76
ISBN
84-86950-05-8
Editor
DINSIC Publicacions Musicals