Paraules i Escrits. Tercer recull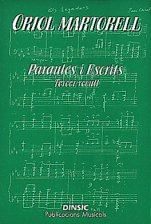 Contents
'Words and Writings. Compilation No. 3'
This, the third and last compilation of 'Words and Writings' by Oriol Martorell, presents the author's views on Catalan composers and interpreters.
Its chronological scope and the diversity of its contents highlight Martorell's broad cultural interests. This book will interest specialists and scholars as well as cultured readers generally. As Pere Artís states in the foreword, it is 'an unquestionably valuable and significant literary referent' of Oriol Martorell's multifaceted personality.
Technical Specifications
Measurements
12 x 18 cm, vertical
Binding
Paperback
Number of Pages
184
ISBN
978-84-95055-55-2
Editor
DINSIC Publicacions Musicals