Francesc Toldrà i Carbonell. Músiques per a gralla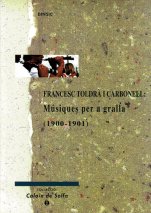 7.69 € VAT not included
8.00 € VAT included
Contents
(Francesc Toldrà i Carbonell. Gralla Music)
In the late nineteenth and early twentieth centuries, the gralla (a shawm) was prominent in certain areas of Catalonia (the Penedès and the Camp de Tarragona districts).
Gralla groups playing these shawms ' usually three of them plus a drum at that time ' played dance music, traditional intermezzos (e.g. the giant-parade sets, gypsy pieces, masquerades and human-castle pieces), and performed in celebrations and major festivities (carnival, Easter serenading etc.).
One of those groups, perhaps the most renowned one at that time, was the 'Colla dels Bastarons' of Vila-Rodona, and its members commissioned these ten pieces for gralla by Francesc Toldrà which we are presenting in this volume.
Structure
Biographical note
The chirimia and the gralla players 100 years ago
Basterons repertoire written by Frances Toldrà
Musical commentary
Score: Paso-doble (no.1); Waltz-jota (no.2); Mazurka (no. 3); Americana (no. 4); Paso-doble (no. 5); Paso-doble (no. 6); El minuto (Waltz-jota) (no. 7); El recluta (Paso-doble) (no. 8); Rosenda (americana) (no. 20); Paso-doble.
Technical Specifications
Measurements
21 x 29,7 cm, vertical
Binding
Paperback
Number of Pages
40
ISBN
84-86949-51-3
Editor
DINSIC Publicacions Musicals, Generalitat / Cultura / Direcció General de Cultura Popular i Associacionisme Cultural
Also collaborating:
Cover Designer
Hermini Mampel
Other collaborator
Albert Miquel, Clavé Miquel, Dolors Vall, Francesc Marimon Busqué, Francesca Roig Galceran, Joan Reyes, Josep Santesmases, Marcel Casellas, Miquel Benito, Paton Felices, Pilar Vives, Salvador Miquel, Xavier Güell