Tècnica bàsica de llenguatge musical 3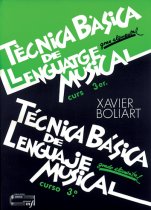 11.06 € VAT not included
11.50 € VAT included
Contents
(Basic Technique For Musical Language 3)
Keys: C m, A m, G M, E m, F M, D m, D M, B-flat M, G m.
-Accidentals (changes in time signature; compound time signatures).
-Rhythms: quaver-quaver rest, quaver rest-quaver, quaver-dotted crotchet, quaver-crotchet-quaver, four semiquavers, quaver-two semiquavers, two semiquavers-quaver, quaver triplet, dotted quaver-semiquaver.
-Rhythms in rhythm-reading exercises: (in addition to those previously mentioned) triplets of two quavers and quaver rest. Combinations of three semiquavers and a semiquaver rest, two semiquavers and a quaver rest, two semiquaver rests and two semiquavers, semiquaver-quaver-semiquaver.
-Clefs: third line G clef and fourth line F clef.
-Time signatures: 2/4, 3/4, 4/4, 6/8, 9/8 and 12/8.
Structure
-Intonation-reading: 80 technical exercises.
-Rhythm-reading: 81 technical exercises.
-Harmony-reading: 1st series (44 technical exercises, not sung); 2nd series (44 technical exercises, not sung).
-Piano accompaniments for intonation-reading exercises.
Technical Specifications
Measurements
21 x 29,7 cm, vertical
Binding
Paperback
Number of Pages
96
ISBN
84-86950-06-5
Editor
DINSIC Publicacions Musicals
Also collaborating:
Cover Designer
Antoni Bassó