The Electronic Computer Mouse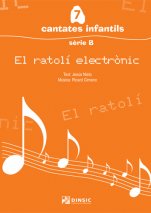 29.04 € VAT not included
30.20 € VAT included
Contents
The initial idea for
The Electronic Mouse was to write a cantata on the conflicts and anguishes of the computer age as a background and framework for the piece so that the work would be attractive and motivating to children.
The cantata explains the relationship that exists between a computer mouse and the child who uses it, Joaquim.
The Electronic Mouse is a story of freindship, but it also speaks to us indirectly of the of the problems of freedom and the right of all persons to lead a dignified life. The story is told to us through two main characters who get together a period of time after they have experienced an extraordinary adventure: they remember how it all started, what happened, and how they became such special friends. Through the use of dialogue in the first person, they describe to us the feelings they felt, giving us a very personal and intimate view of their experience.
The instrumentation is concieved for a basic group to be able to accompany the cantata: piano, electric bass, and drums for the harmonic and rhythmic base of the work, along with four other instruments (flutes and clarinets). The singers in the cantata can also integrate body movement and simple percussion to underline certain ideas and themes in the story.
Structure
The Electronic Computer Mouse contains 10 songs in different styles: there is a blues, a two-step, a waltz, 2 cha-cha-chas and a havenera (a style of song sung by Catalonian mariners in Cuba). These songs present a kind of musical history, and because of their popularity and musical level, are perfect for young boys and girls.
Technical Specifications
Duration
0:28
Measurements
21 x 29,7 cm, vertical
Binding
Staple. Plastic-coated cover. Parts included as inserts.
Number of Pages
75
Number of parts
6
Number of Pages of Parts
108
ISMN
M-69210-454-4
Editor
DINSIC Publicacions Musicals
Also collaborating:
Cover Designer
Clara Rochera