Cançoner 3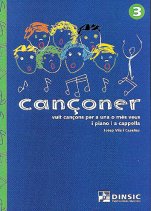 11.54 € VAT not included
12.00 € VAT included
Contents
(Songbook 3)
This is a gathering of eight songs for one or more voices and piano and a cappella, almost all of them based on texts by Miquel Desclot.
These melodies are very appropriate for choral groups formed by singers aged about 10 years on up. There a broad diversity of technical difficulties from one song to the next from the standpoint of tessitura, phrase length and degree of melodic complexity, but all the songs are conceived for choir singers up to the age of 14 or 15 years. With a clear predominance of unisons, simple polyphonies for two and three voices are finally introduced.
The piano accompaniments are devised for accomplished musicians. They are sometimes complex and seek to make up for the simplicity of the melodies, endowing them with a contrasting and suggestive musical ambience.
For the first time in this collection we present four canons. They can all be performed a cappella or, if necessary, by replacing the voices with instruments of the same tessitura.
Structure
Papallona (Butterfly)
Cànon del vespre (Evening canon)
Eruga processionària (Processionary caterpillar)
Cançó del follet de les escombraries (Song of the fairy of the garbage)
Cucut de rellotge (Cuckoo clock)
Peix martell (Hammer fish)
Cançó del follet del silenci (Song of the fairy of silence)
Corc de la fusta (Woodworm)
Technical Specifications
Measurements
21 x 29,7 cm, vertical
Binding
Staple
Number of Pages
32
Editor
DINSIC Publicacions Musicals
Also collaborating:
Cover Designer
Rosa Cos
Related Publications