Cançoner 4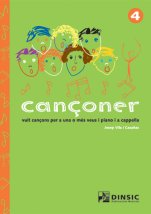 14.90 € VAT not included
15.50 € VAT included
Contents
(Songbook 4)
A collection of eight songs, some for two voices and others for three, based on texts by Miquel Desclot.
These pieces are intended for high-voice choral groups and for ladies´ choirs, some with piano accompaniment and some unaccompanied, though the Cançó del Fruiter, the Cançó de la sabatera and Sardina de llauna are more suited to children´s choirs.
As in previous volumes, the piano accompaniments are devised for accomplished musicians. They are sometimes complex and seek to make up for the simplicity of the melodies, endowing them with a contrasting and suggestive musical ambience.
These songs are intended as concert pieces rather than being strictly educational in nature, and they are well suited to supplementing the usual concert repertoire.
Structure
Cançó del pescador de llunes (Song of the moon-fisherman)
Cançó del cor del cavaller (Song of the knight´s heart)
Cançó de la sabatera (Song of the lady shoemaker)
Cançó del conductor de núvols (Song of the cloud driver)
Cançó de patinar (Skating song)
Cançó guerrera (War song)
Cançó del fruiter (Song of the fruit seller)
Sardina de llauna (The tin sardine)
Technical Specifications
Measurements
21 x 29,7 cm, vertical
Binding
Staple. Plastic-coated cover.
Number of Pages
40
ISMN
M-69210-024-9
Editor
DINSIC Publicacions Musicals
Also collaborating:
Cover Designer
Rosa Cos
Related Publications