Alimara - Porta Ferrada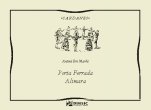 18.75 € VAT not included
19.50 € VAT included
Contents
(Beacon / Iron-clad door)
There have been two tendencies in the way that the most outstanding symphonic musicians of Catalonia have approached the sardana. Some have made use of it, treating it as just a musical form, i.e. shorts and longs, binary beat, a neutral recipient into which they could pour the fruits of their own invention, often rehearsing a style of composition inherited from the avant-gardes of the twentieth century. The second group, the majority, have understood that a wine-skin from Catalonia had to contain a good Catalan wine, with form and language coinciding in the same spirit. These composers have poured out their hearts in writing ambitious music within the most stirring autochthonous tradition. 'Alimara' (Beacon) and 'La Porta Ferrada' (Iron-clad door) show that the maestro Antoni Ros-Marbà forms part of this second group.
In a more and more personal style, when Ros-Marbà writes for the cobla, he knows exactly what music to write: the sounds he has inherited from Catalonia's musical traditions.
'Alimara' (1964) is fruit of a commission from the Works of Popular Dance for that year's Sardana Festival at Montserrat.
'Porta Ferrada' (1973), which won the Critics' Prize at the 1973 'Sardana of the year' competition.
Instrumental and vocal formations
Cobla
Instruments
Baritone Horn II
,
Baritone Horn I
,
Trombone
,
Trumpet II
,
Trumpet I
,
Tenor Shawm II (Tenora II)
,
Tenor Shawm I (Tenora I)
,
Soprano Shawm II (Tible II)
,
Soprano Shawm I (Tible I)
,
Small Drum
,
Double Bass
Structure
Two sardanas for cobla:
- Alimara (Beacon)
- Porta ferrada (Iron-clad door
Technical Specifications
Measurements
21,6 x 16 cm, horizontal
Binding
Full score stapled. Score and parts inserted in the cover.
Number of Pages
32
Number of parts
11
Number of Pages of Parts
22
Editor
DINSIC Publicacions Musicals
Also collaborating:
Comentator
Jordi Lara
Cover Designer
Clara Rochera
Other Versions of this Work