Preludi modal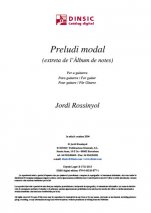 1.75 € VAT not included
1.82 € VAT included
Contents
A piece from
Notes Album
.
Though original works, these studies have traces and rhythmic and harmonic styles drawn from familiar contexts, agreeably reworked. Students can work on them with the added curiosity of coming across known features.
As for their level of difficulty, they lie between the end of the elementary stage and the start of the intermediate, provided that they are taken at the metronome speeds given and with the fingerings given.
Sixteen pieces for guitar students, at post-elementary to early-intermediate level.
Technical Specifications
Measurements
29,7 x 21 cm, horizontal
Number of Pages
4
ISMN
979-0-69210-877-1
Editor
DINSIC Publicacions Musicals