Da Camera 26: Like Time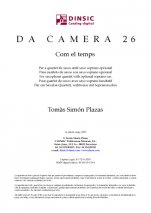 14.65 € VAT not included
15.24 € VAT included
Contents
'Com el temps' (Like time): a work for saxophone quartet, for students completing their elementary studies.
'Com el temps' came into being through a commission from the 'II Trobada de Saxos de Catalunya' (Second Sax Gathering of Catalonia), the intention having been to provide that event's elementary-level students with music written for them and not posing any excessive difficulties.
The work's first movement starts off with a simple slow theme intended to help the students to learn to listen to each other, with the themes being passed equitably from one saxophone to the next. Later on, the tempo changes markedly, and in this section there is much play on differing articulations and on accompanied melodies. These themes are still straightforward in terms of their conception and performance, which is why the composer gives this section the title 'Temps llunyans' (Times long past), evoking his own times as a student.
The second movement begins with a theme announced by the tenor sax, with very tonal harmony, and though the theme remains unchanged, the harmony does not, it coming to feature chromatic elements and more modern harmonies, more closely attuned to these 'Nous temps' (New times).
The third and last movement is called 'Tic-tac' (Tick-tock). It is descriptive in nature, with the rhythm of the accompaniment constantly suggesting a wind-up clock. It has a much more rhythmical melody, one that is somewhat 'bolder' in that it puts forward new rhythms and new articulations as it develops continuously over the underlying tick-tock.
Structure
1.- Temps llunyans 2' 30' (Times long past)
2.- Nous temps 1' 55' (New times)
3.- Tic-tac 4' 15' (Tick-tock)
Technical Specifications
Duration
8' 40''
Measurements
21 x 29,7 cm, vertical
Number of Pages
43
Number of parts
5
Number of Pages of Parts
30
ISMN
M-69210-112-3
Editor
DINSIC Publicacions Musicals
Also collaborating:
Cover Designer
Rosa Cos